Mobility in the Datacenter
When the first UCS app came out for android, there were a couple reasons I didn't rush to download it right away.  From my experience in the regular Java management console I wasn't sure it would scale to the form factor of a phone very well and I
honestly don't spend a whole lot of time there in the first place.  In our environment, once the initial setup was finished things remained fairly automated and any in-depth management of UCS has generally been restricted to projects like hardware upgrades or expansions. I thought the app would probably be more suited to an android tablet and I've had my eye on the Cius for a while now so I kind of planned on testing that hardware and this software at the same time.  Eventually I decided to give the app a try on my Droid X and realized it was designed a little differently than I expected.  The aim of this software is more about insight than management which actually works out well for both the form factor and use cases of a typical smartphone. One of my own shortcomings regarding UCS is that I don't get into the manager as often as I should to check events and warnings on the system.  The UCSand app highlights the value of Cisco's XML-API in allowing a program to pull targeted data out of the UCS Manager without requiring an individual to navigate through extra configurations or information at the time.
The app is super-fast and it is really nice to have answers to most of the common questions about your servers like "How much memory is in that blade?" or "Which hosts were the ones with Nehalem Processors?" right on your phone.  I've also checked the event logs on UCS more times today than in the last few months combined; it becomes one of those things you do on your phone while waiting for meetings to start or lunch to end.  I really like the app and immediately thought of it as another of those logical, value-added features that convinced us to implement UCS in the first place.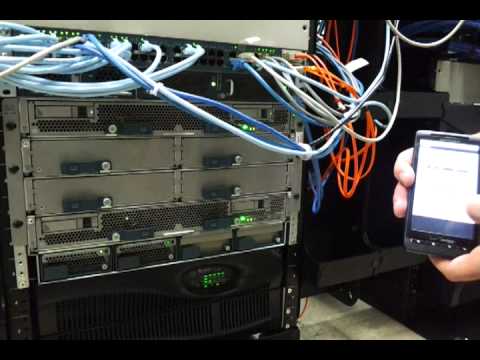 You can really see how the trend of lightweight application delivery that has been so successful in the consumer market can and will demonstrate its value in business and the enterprise.  Much of systems management is broken up and distributed throughout a team of individuals with specific interests and specializations.  We all have certain processes and applications we perform or monitor constantly and the ability to target and deliver access with minimal impact on mobility is a natural goal in improving the efficiency of workflow.  It is nice when you can simply query the device in your pocket or under your arm for answers during spontaneous planning or problem solving situations without holding up the whole process.  I know I'll be trending towards increased mobility in the workplace as these technologies mature and develop; it will be exciting to see how manufacturers and customers offer and deploy solutions as the paradigm continues to shift.
If you're interested in the UCSand app, find it on the Android Market here.